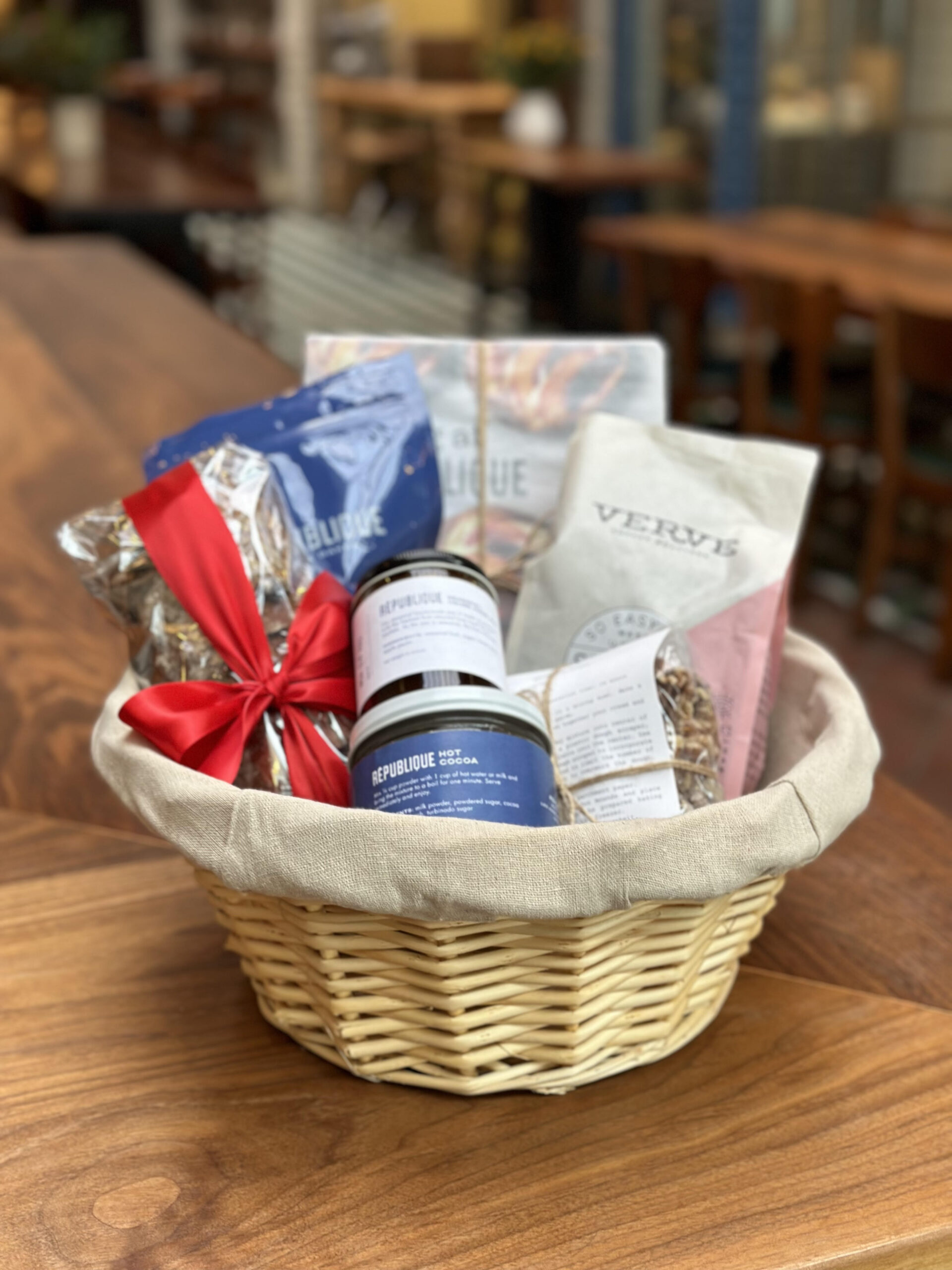 RÉPUBLIQUE HOLIDAY GIFT BASKETS
OUR ANNUAL HOLIDAY GIFT BASKETS ARE BACK, THIS TIME WITH SOME NEW ITEMS THAT ARE SURE TO WIN OVER EVEN THE TOUGHEST OF CROWDS.
Looking for that one-of-a-kind Holiday present that has something for everyone? Celebrate the season with a limited-time gift basket from République! Each standard basket [pictured] is $125 and includes:
Chef Margarita's book Baking At République
a fresh holiday stollen loaf
our cranberry-walnut scone kit
bag of cookies
house-made granola
République hot cocoa mix
our seasonal jam
imported olive oil
and a bag of Verve coffee
Feel like something a little more celebratory? Our deluxe box for $165 swaps out the cookbook and hot cocoa and adds a half bottle of Billecart-Salmon Sparkling Rosé instead.
But wait, there's more! Select from a list of à la carte add-ons such as a half-bottle of Krug Grande Cuvée champagne, our famous baguette with Rodolphe Le Meunier Normandy butter, house-made chips with caviar and crème fraîche, a holiday panettone, and one of two bottles of single-barrel whiskey made in collaboration with Rare Character—exclusive for République.
Please note that baskets will go on sale online for PRE-ORDER and in-store PICK-UP on Monday, December 5th.
If you are ordering multiple baskets with add-ons, please email us at [email protected] to specify which add-ons you would like for each custom basket. For next-day pickup, please order by noon the day prior.
PRE-ORDER 12/5